Delight in
Every Lifelike Detail
Find a little one who fills your heart with joy! Each of our lovingly handcrafted baby dolls has a personality all their own, from their expressive faces right down to their wrinkly fingers and toes


Experience
The Ashton-Drake

Difference
Showcasing over 30 years of award-winning doll artistry
Uniquely crafted to capture the character and quality of each doll
Superb handcraftsmanship and skillful hand-painting
Luxurious fabrics, expertly tailored costuming and innovative accessories
Interest-free monthly payments
Backed by the best-in-the-business, 365-day, unconditional guarantee
A U.S. based employee-owned company
Dolls with
Amazingly Lifelike Features
Discover What Makes Our Dolls So Realistic
Make it Extra Special with Our

Handcrafted Doll Accessories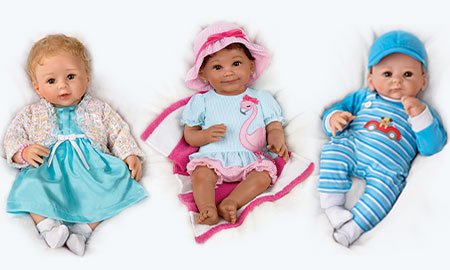 Dress Up Your Doll with Custom-Designed Outfits
Whether it's time for bed or time to play, each outfit created for our dolls is hand-tailored for a perfect fit. Pamper your little one with a wardrobe of adorable and fashionable looks, and share sweet snuggles with our blankets and buntings.
SHOP NOW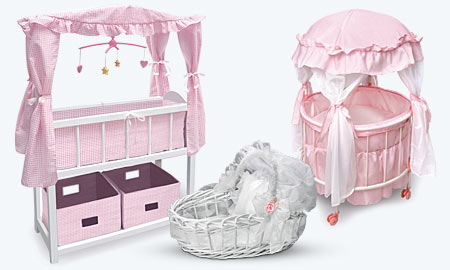 Fantastic Furniture and Bassinets to
Display Your Doll
Dolls of this quality deserve to be shown off in style! Our handcrafted doll furniture does just that with lavishly-detailed cribs and bassinets, beautifully crafted rocking chairs and so much more.
SHOP NOW
DOLL OUTFITS
DOLL FURNITURE
What Our Customers Are Saying
"The Katie Baby Doll is absolutely beautiful and exactly what I was looking for. With the lifelike sounds and weight of the doll, it is a true representation of what is advertised."
Bonnie K.
Shop All Baby Dolls >
"Extremely happy with my purchases! Shipping was very timely too. I was shocked at how real my items felt. I will absolutely buy from you again. Thank you for making great items that are affordable for everyone."
TT
Why We Care >
"Darling Daisy Monkey Doll is adorable! I keep her right with me all day! Highly recommend this doll!"
Rebecca B.
Shop Portrait Dolls >
"Love the guarantee and the quality of the dolls. This is my 4th order."
Charlene
Our Guarantee >
Ashton-Drake Dolls: Experience the Difference
For over 30 years, Ashton-Drake has been a leader in the world of dolls, combining unparalleled handcraftsmanship and award-winning artistry to bring you incredibly lifelike baby dolls, toddler dolls, reborn dolls, newborn baby dolls, portrait dolls, lifelike monkey dolls, plush dolls and animals. We also work closely with the world's most renowned Master Doll Artists to create high-quality dolls meant to give you joy each and every day.
Lifelike Baby Dolls You Will Fall in Love With
The name of our most recognized brand of realistic baby dolls says so much about the wonder that awaits you: So Truly Real®. In fact, once you hold one of these little ones in your arms, you might not want to put them down. Each of these lifelike baby dolls has a unique personality that's reflected in their expertly hand-painted features, velvet soft skin, hand-rooted hair, and a perfectly weighted body to make them feel just like a real baby. And wait until you see the ensemble they are dressed in - each is custom designed!
For an extra layer of realism, our interactive dolls can respond to your touch. Some of them "coo," "giggle," and "babble" to soothe their little selves as you hold them, and some have a "heartbeat" you can hear and feel. Some even "breath" so you can see their tiny chest move gently up and down.
And when it comes to silicone baby dolls, our TrueTouch® authentic silicone dolls are some of our most sought-after works of art in the doll marketplace. Their soft and supple skin lends a unique feel of "giving" when you hold them close to recreate the experience of holding a real baby.
The Ashton-Drake Baby Photo Contest
For 11 years now, we've been inviting our customers on Facebook to submit photos of their favorite little ones. The annual winner, in addition to receiving a monetary prize, gets to see their photo transformed into a real-life Ashton-Drake baby doll that we can all enjoy. These little ones are always customer favorites! It's quite a special occasion for everyone involved in this labor of love and it has been truly rewarding to watch the contest evolve throughout the years. All the incredible dolls born from this contest have gone on to become great gifts too!
Dolls to Brighten the Holiday Season
We know Christmas is magical for the young and young at heart alike. That's why our selection of holiday dolls is designed to capture the essence of the Christmas season. From beautiful winter angels, jolly elves and musical Santa Claus dolls to baby's first Christmas dolls and even a realistic baby Jesus doll with his own manager, each holiday masterpiece is a reminder of why this time of year is so special. You might even find some collectible ornaments for your Christmas tree!
Portrait Dolls Bring Famous Figures and Characters to Life
Have you seen our portrait dolls? These Collector's Edition dolls bring some of the most famous people and pop culture icons to life with a realism you must see to believe. It's like a visit to your own personal museum. Meet Princess Catherine or Her Late Majesty Queen Elizabeth II up close, or marvel at your favorite movie characters like those from the HARRY POTTER™ Wizarding World, Disney Tim Burton's The Nightmare Before Christmas or THE WIZARD OF OZ™. Each portrait doll is created with an incredible attention to detail and outstanding, high-quality costuming. Many stand well over one foot tall to fully depict the personalities they are inspired by and capture the highest quality standards of realism.
Precious Doll Gifts for Family and Friends
Remember that if you are shopping for gifts, Ashton-Drake dolls make awesome gifts. The realism, craftsmanship and unique personality that each of our dolls carry with them is such a beautiful thing to share with someone you care about. In fact, considering the strong connections that people form with our dolls, giving them as gifts is sure to inspire a special tradition that will be passed down for many years to come. They make wonderful gifts for any occasion, particularly the holiday season. Take a look, and not for long you will realize that Ashton-Drake has dolls for everyone!
The Ashton-Drake Difference
Ashton-Drake dolls are skillfully handcrafted with the highest-quality premium materials by the best Master Doll Artists in the business. And we offer interest-free monthly payments, backed by a 365-day unconditional guarantee, and include free return shipping. Ready to start shopping?
With so many dolls to choose from, you might want to start as soon as possible. And while each of our dolls is packed with personality and heartwarming cuteness, you might find it hard to stop at choosing just one doll. We do have sets of adorable twin cuties who would love to come home with you today. Shop Now!
SHOPPING FOR CHILDREN'S PLAY DOLLS?